Succession planning is not about retirement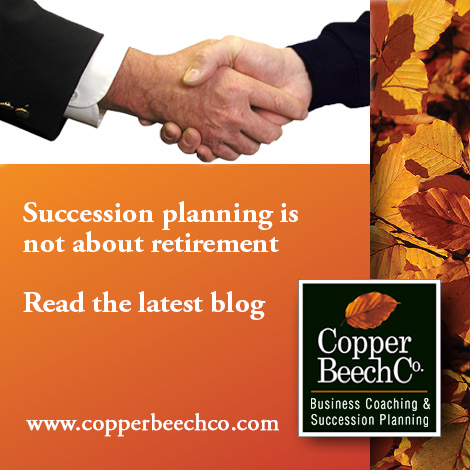 Succession planning is not about retirement, it's about commitment and preparedness for the future.
Through development of a plan family members are given the tools to help identify what they want and how to align the wants of each family member.
There are two fundamental parts to a succession plan:
     Strategic plan: where do we want to take this company and what resources will we need?
     Transition plan: when do we want to start bringing the next generation to an executive role?
what training will they need?
and
how does the senior generation diversify its wealth, tax effectively, to allow flexibility in the sale of the business?
As a coach, one of the most fascinating parts of a succession planning engagement is the first phase, the information gathering phase: family history, business history, who is in the family and which members are active (or passive) in the business. What are the aspirations of family members? Through questions and analysis, we find out where there is strong agreement and where there are potential conflicts or differences of opinion. We start working in the areas where there is agreement building a base and momentum that helps address the areas where differences are voiced.
"I'm an old man, I've had many worries…most of which have never happened." Mark Twain
When coaching a family as they prepare a succession plan we know that business owners have a fear of family conflict. It's largely a fear of the unknown, through the planning process communication lines are developed that allow a formal meeting process, agenda's, rules of conduct, even agreed to meeting regularity (for instance a family meeting will be held on the second Tuesday every three months at lunch at a designated meeting place.)
Successful transition from one generation of a family to the next has a dismal success rate – under 40% – compared to the sale to employees – at about 80% – I believe this is largely due to the emotions involved between family members of the business; emotions that are absent when dealing with employees. Creating a safe, viable communication plan will reduce the emotions, allow family members to voice their hopes and creates an atmosphere of trust that lets family members and the family business support each other and their aspirations.