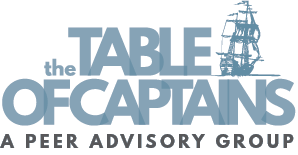 ---
---
We bring together selected business leaders (captains) in a peer advisory group to help achieve personal, professional and business growth. Contributing to the growth of each member as sounding boards, planning advocates and accountability colleagues.
Peer advantage
The power of peers
The group is always smarter than each individual in the group.
It's generally lonely at the top but you don't have to be alone. When you belong to an alliance of CEOs' each of whom expect to rely on your experience, just as you rely on theirs, the sense of isolation is mitigated.

It's help you can't find anywhere else, meeting with fellow business leaders who are in the room for two reasons:
1. To get objective input and perspectives from people who know what its like to have the responsibility of leading a company.
2. To give objective feedback to the other members of the group.
Your group is where you can "get your answers questioned" a second opinion about critical decisions by knowledgeable peers who know their contribution is valuable to you, just as your contribution is valuable to them.
---
Fundamental rules
1. Confidentiality. What's said at the table stays at the table. Failure to abide by the rule is subject to discussion by the group and probable dismissal.
2. There can be no soliciting of business from other members. A member may approach another member to buy but not to sell.
Commitment
2 Hour one-to-one coaching session
4 Hour group CEO meeting
Cost: $450 per month (plus HST)
Typical agenda
Update
Updates from each member on significant events or milestones reached in the past month (5 min. max per member)
External Education
Online education (e.g. TED Talk ) or an expert from the community on an area of interest. (e.g H.R. Regulations, Alternative financing.)
Break – 10 minutes
Internal Education
Delve into member issues using one of a series of prescribed processes. This includes sessions on strategic planning, focused issues of a member or review and discussion on a members progress from a previous meeting.
Monthly Coaching
A monthly coaching session with Peter Brown CPA, C.A., CFP, CLU a financial professional and experienced business coach with additional training in family business matters and business transition.
---
Read our Case Studies

Paul is the CEO of a manufacturing company that produces a seasonal product. At the time of year when production is low (the 3 summer months) the factory operates at…
---
Contact Us to Join Our Table of Captains