Succession planning is just a stepping stone in the family prosperity process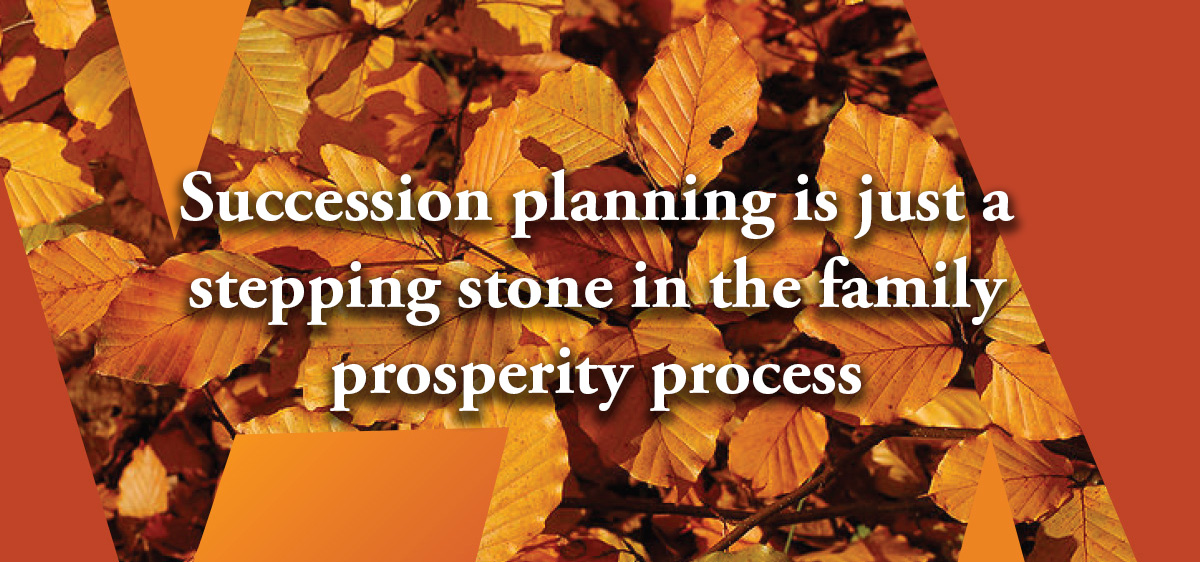 Fear is a primal motivator in human beings and a major factor why most business owners haven't done any succession planning. It's hard for people who have spent a career building a business to think about stopping. Not building anymore; it goes against their instincts.
Business builders are typically optimists; it's one of my favorite qualities in them. For business builders it's an adrenalin rush; getting to work in the morning, staying ahead of all the obstacles and being in the thick of decision making that will determine the course of the business, sometimes for years to come. If a business owner thinks of succession his default is fear; fear of conflict in the family, fear of loss of control and fear of losing the wealth he or she built over a lifetime. To be successful in the planning work we must address those fears, and do it in a way that shows the business owner that planning is an important step in building not just the business but family wealth as well. Including family in the planning process, indeed letting them develop their skills by taking ownership of parts of the planning process solves a lot of the issues and it requires the development of communication lines that become embedded in the organization and the family for the benefit of future generations.
By allowing family members to participate in the planning process, and expanding the process from business succession to family wealth transition, the opportunity arises for senior family members to transfer their wisdom as well as their wealth. It allows the family as a whole to discuss the social aspects and values that they have or would like to develop. Stepping back from the business and considering wealth from a family perspective results in the business being recognized as a wealth engine. Important to the future of the family but not central, it can be grown, changed, sold or split into pieces, all decided by family members participating in a process of strategically planning for continued family prosperity.
Transition planning is a growth process for the family, and when builders of businesses understand that, the fear is diminished and great things can happen both in the business and in the family.