Thinking of starting a business? Thoughts and tips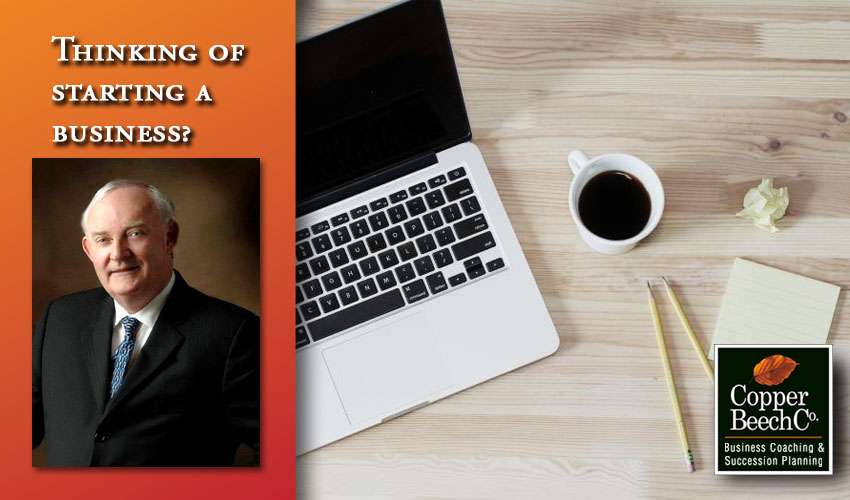 I often talk to people about retiring and starting a business. A famous example is Colonel Sanders who started his finger-licking chicken business at the age of sixty five. Retirement is a great time to start a business, you have a wealth of knowledge drawn from a lifetime of experience, networks of people who can be customers or suppliers or even partners. Retiring to something, however, is not the only motive for starting down the path of self-employment. Being down sized, laid-off or just simply growing tired of working for someone else are also established reasons.
How do you start a business? What steps should you take?
The first is to determine is how much time you wish to devote to the business, building a business can be an all consuming act. Discuss this with your spouse and your family. A business is like a child in many ways, it will affect many aspects of your life and of those close to you. Other considerations are; how much do you want to invest (risk)? Why do you want to go into business? What will be the goals of the business? Why have you chosen the business you have chosen?
The answers to these questions will be the basis of a business plan. I highly recommend writing down these questions and your answers. Include a budget; your financial goals, sales expected and your estimate of costs. Now you're ready for professional help.
There are resources in the community, many free, that can help you succeed. Local, provincial and federal government funded agencies are staffed with people who can help you navigate the process of establishing your business.
A good example of these resources municipal and area Business Self-Help Offices often located in city hall. Billed as the first-stop shop they can save you time, energy and money guiding you through many aspects of starting a business from planning to name registration and more.
Programs like this are designed to encourage new business people. The staff perform valuable work; they're a resource you should not overlook.
Choose an accountant and lawyer. These characters are not free, but they can save you big dollars and keep you out of trouble. Your banker also has valuable experience and many banks have business plan guides that can help you plan.
Review your plan with one or more of the resources mentioned, let them ask tough questions. If you don't' have the answers, reassess your plan with your advisor and make adjustments. Be prepared to network. The Chamber of Commerce is an important organization for this key business function.
Through networking, you will develop trusted relationships that can help you with sales leads and supplier information.
Over the years, I have witnessed many people start businesses, some have failed and some have succeeded beyond their dreams. Writing a plan and being aware of and using the resources available in the community don't guarantee success, but it certainly gives you an edge.